Supporting People with Disabilities in STL with Sharon Spurlock
March 6, 2023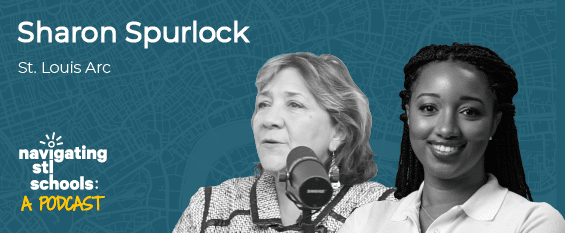 "Being able to lay out not only what you want but what you don't want, can allow you to stay there when having conversations with professionals. And if you can all agree on that future vision, then the steps to get there, that conversation becomes less confrontational and more about figuring out the best path."

Sharon Spurlock
Today's guest is Sharon Spurlock, Senior Director of Family Support at St. Louis Arc, an organization that provides support to individuals with intellectual and developmental disabilities. Sharon sits down with Staci to discuss the types of support provided by St. Louis Arc, the benefits of having documented and mandated support, the challenges in educating children with special needs in STL, and what gives her hope for the future.
Sharon's K-12 story

Moved every year to a different state

Her experience was shaped by constantly having to start over

Always had good academic skills, but being able to come in and make friends and build connections was really difficult.

How has that experience played a role in your work today?

"I think that I do want to make sure that everyone has their place wherever they land – you know, bloom where you're planted. And for people with disabilities? That isn't an easy thing to do all the time." 1:44 – 1:58

There are a lot of resources that aren't available and there are prejudices about who can participate in things like daycare.

What keeps you motivated to do this work?

Sharon loves what she does

The real motivator is building relationships with people.

She has been able to see some people through thirty years

What types of support does St. Louis Arc provide?

They break down their areas of support in three areas

Areas across all life domains – Education, employment, housing, safety and security, health

Building education for advocacy – making sure people have the skills to speak up for themselves

They also connect families through support groups to build

The basics of information referral and resource connection

Everything from "where can I get free diapers" to "I'm homeless on the street with two children with autism what do I do"

What are some of the ways that you are able to support the entire family during the process?

Respite services is a chance to give a caretaker a break – they provide funding to bring someone else into the home so they can go out and take a break and that allows to keep them connected to their social network

With the support groups, they encourage everyone to exchange phone numbers

They started play dates

How do you help families understand all of the different terminologies (i.e. IEP – individualized education plan)

Disclaimer – She spent her whole career working with adults so she's not as versed about this, but her entire team is up on it.

504 is basic modifications that someone might need to their environment like maybe they need extra time on a test, or maybe they need to sit in front of the classroom.

An IEP (individualized education plan) is a document that requires teachers to do specific services to better that child's ability to learn – could be therapies

Are there benefits to having this documented and mandated support?

Yes

They're about helping these kids become successful adults

STL Arc can sit in the IEP meetings, because they can be daunting.

They also provide family-friendly tools to prepare beforehand so they can walk in with goals for their child

What is one of the biggest challenges in terms of educating a special needs child in STL?

It's a challenge because of coordination

They're really thankful for Navigate STL

The staffing crisis impacts us, because teachers don't want an extra kid with special needs because they're already spread thin

All teachers should go through a universal learning so that they know how to support children with all kinds of learning styles

How does a parent know when it's time to advocate? What signs should they be looking for?

There are growth indicators of where your child should be – if your child doesn't meet those it doesn't necessarily mean there is a problem, but it's a good indicator

Evaluate them against their peers

Any time you're questioning, it's a great time to reach out.

There are a lot of opportunities for young children to not get a diagnosis but get a little extras services to get them back up to level

She encourages families to just "go with their gut"

How do you help parents when to advocate and how to advocate for their children?

Sitting down and having the opportunity to think ahead is really important

"Being able to lay not only what you want but what you don't want, can allow you to stay there when having conversations with professionals. And if you can all agree on that future vision, then the steps to get there, that conversation becomes less confrontational and more about figuring out the best path." 16:41- 17:01

"What is your child's gift? What are they really good at? Because that's a really good way to start a meeting rather than coming in and talking about how far behind they are in reading or other things that are going wrong." 17:35 – 17:50

How do you support families with physical disabilities?

For young children, they have a program called Capable Kids and Families where they do in-home visitation and can provide free equipment.

They work with families

They don't work much with durable medical equipment, but we know who does, so they can refer you to organizations for help.

When and how can families get connected to STL Arc?

314-569-2211 and ask for someone in family support

They'll try to get a picture of your whole family and figure out what you might be eligible for

You can come from anywhere

Go to our Youtube and watch videos

They're not focused on only getting services from Arc – they want you to get what you need so they will refer you wherever necessary.

What gives you hope moving forward for education?

The trend of colleges teaching universal learning techniques will have an impact.

We're being smarter about using resources and supports – bringing them in where they're needed in small amounts instead of pulling kids to a segregated space

The change in confidence in advocacy for students and parents

How do you support families or caregivers?

STL Arc has a cutting-edge program – Parents Learning Together

They teach parents how to meet 6 criteria of parenting which includes learning how to advocate for their children

What advice do you have for parents in the city in particular that are wondering if their child can get what they need from the city?

The family knows what's best, but it's good to know you're not alone. So it's about getting connected.