The Ins and Outs of Putting Kids in Magnet Schools with Louis Kruger
January 9, 2023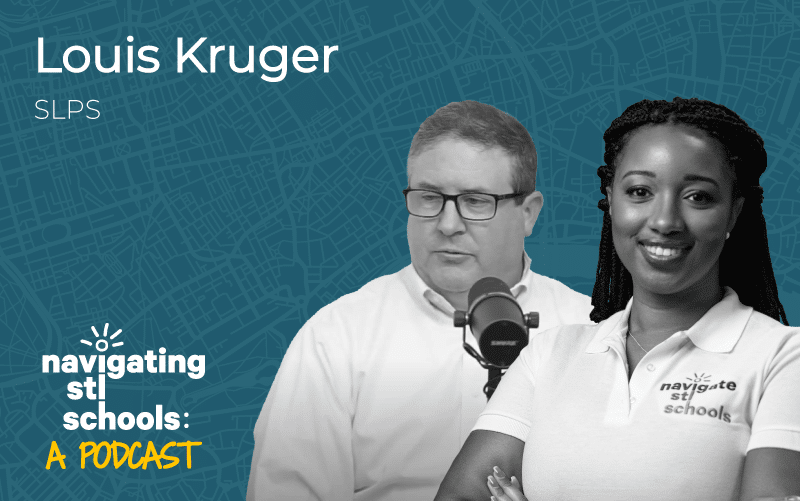 "Honestly what surprised me the most was the level of satisfaction I got from really trying to help people do something as simple as putting kids in school"

Louis Kuger
Today's guest is Louis Kruger, Executive Director of Student Recruitment & Placement for SLPS. Louis manages the process of parents applying for children to get into the district's magnet school program. Louis sits down with Staci to discuss the importance of early application to magnet schools, the differences between neighborhood and magnet schools, the challenge of a declining student population, and his hope for the future of education in St. Louis.
What does "Director of Student Recruitment & Placement" mean?

Mange the process of parents applying for children to get into the district's magnet school program

K-12 story

Grew up in St. Louis

Went to private catholic schools for 1-12 grade in the area

How did you start your work with the district?

1998 Started as a clerk in the old recruitment counseling center which was established to help parents coming into the district as an entry point to help them navigate the entry into public schools or magnet schools

Been doing that for quite a while

What is a magnet school and why do they exist?

Started w/ federal grants in 1976

Expanded in years leading up to 1983 when they were under a desegregation court order.

Expanded in 1989 and even more in 1992

Comprise of about 40% of the district schools

They have specialized programs within the schools, for all grade levels

What's the difference between a magnet and a neighborhood school?

They all have the same base curriculum from the state of Missouri from one grade to the next

Magnet schools will have a little extra depending on the focus of the school, i.e. a dance school will have more dance teachers.

At the high school level it's more expansive whether it be gateway STEM, medical science, etc.

Students do need to apply and be accepted into the school

They have criteria for qualification versus just local residency

The application process starts about a year out

The district operates in 2 pools – pool A and pool B

They want to apply in pool A

For Metro, you want to really make sure you're a part of pool A

Then pool b comes along after

If you apply for pool A do you have to reapply for pool B

If your child doesn't get accepted, they can remain on waitlist

Otherwise you can apply for pool B

And those slots are posted after the application lottery

Why do magnet schools start so early?

There are a lot of options for school in St. Louis, and a lot of them are working on this sort of stuff that far in advance (magnet schools starting around October the year before school starts)

It's just for planning purposes

What are some of the current challenges facing SLPS and how do you seek support from the community?

It's a little bit out of my realm, I'm mostly just acting as a clearing house for applicants to make sure they get kids assigned to schools.

Declining student population

They work to provide the best quality education with the numbers that they have

They had to close some schools so that they could ensure they were providing the children with what they need from the staff

When the classes are so small, around 100 people, it's very difficult to give the kids everything they need, especially in high school and in terms of sports and extracurriculars.

As far as reaching out to the community, that's really not where I'm at

What do you think that parents should consider when they're looking at selecting that school for their child

They need to begin early

It's hard to find a perfect fit, but you can find really good fits, but you need to understand that not everything is going to be there for every child in every instance

Do it when the child is young, not necessarily at school age.

Look at reviews online, getting tours, word of mouth

The earlier you start the better so you kind of get an idea of what is available and what might be the best fit for your child.

The earlier you start prior to the next school year gives you the best options for your child

When should a parent get their child tested if they want to get their child into a magnet school?

The gifted programs begin in preschool age 4 in the district

They will not test a student beneath the age of 3.5 years

You have to kind of look at your child's birth date to see which school year they fall into

Do students have to be tested to go into high school and junior high as well?

There are four gifted elementary schools the district operates and one gifted middle school

But we don't really have gifted high schools – they look more at grades and attendance and recommendations

You do need to qualify – but you only need to qualify once

What advice do you have for parents considering a magnet school?

Apply early, that's the key.

If you're applying for metro, they get about 400 applicants for about 100 seats.

Metro will review all of those and determine eligibility, and those kids will go into the lottery

Their performance in 7th grade is what is looked at more so than in 8th grade

For other schools, it really comes down to your residence.

You need to be a city resident.

What other types of magnet schools are there in the district

Math and science

International studies

Visual and performing arts

Montessori schools

Early childhood centers

There's a wide range of what's available

What is something that truly surprised you about the work that you do?

The difficulties for some families to provide verification documentation, whether it was their child's birth certificate or trying to prove where they decide.

"Honestly what surprised me with that the most was the level of satisfaction I got from really trying to help people do something as simple as putting kids in school"

Where do you suggest the parents start if they are considering a magnet program

Start by looking online

SLPSMagnetSchools.org

There are links that will take you to the application site from there

How many schools can you apply for at one time on the magnet application?

You can apply for two non-gifted magnet schools

Up to four for gifted magnet schools

The rest, they limit you to two because you will likely get your first choice.

If you apply to a second school, be sure it's a school you'd be okay with your child going to, because you might get what you ask for (mainly for high school)

What's something that gives you hope for the future of education in the city of St. Louis?

Coming out of the pandemic made people realize how important school really is.

Whether it was families who had to stay at home with their children because they didn't have anywhere to send them.

My hope is that the understanding of how important school is continues and grows so that families realize (and you know not just families, but people who fund schools, others who participate with them) as to how important it really is for these children to have a save place to go every day.