The Power of Alumni Activism in Education with Rudi Whittier
February 6, 2023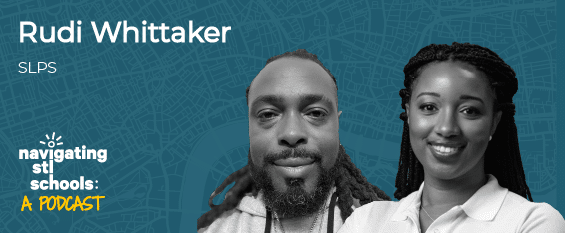 "Be yourself. Don't try to be someone else. Thrive within your own body. And please yourself. Please your family. Make sure that you have morals. And everything else from there should lead you to a great road for success."

Rudi Whittier
Today's guest is Rudi Whittier, a Vashon High School alumni and SLPS activist. Rudi sits down with Staci to discuss the benefits of choosing a community school, advocating for the growth and success of Vashon High School and beyond, and how a strong foundation of community-based morals will lead children to success.
Rudi's K-12 Story

Grew up in the west side of St. Louis

Participated in the Saye program where city kids were bussed to a county school so they wouldn't have to run into bullies and negative things on the way to school.

Rudi went to Rose Acres Elementary

Then went to Pruitt Military Academy.

His parents transferred him to Rockwood Valley, which he enjoyed

Loved high school in St. Louis (Vashon)- did a lot of sports and played trumpet in the band

There were fights and everything at his high school, something that is not unique in most high schools, but there was a lot of character and unity in the community.

What era are we talking about?

Late 90s between 1996-2000

They wanted things so bad that they wanted to figure out a way to make change for the future.

There were some really important people who kept the school together and had a massive impact on him and his peers

What was one of the events that truly shaped your high school experience and lead to alumni activism?

The championships – the diamonds that came out of the rough.

Realizing that their team was one of the top teams in the state.

That idea ignited the realization that the school could be in the top schools of the state or even the nation – and that was a future worth fighting for.

Most of the kids who went to Vashon also go there now, so that has made them want to step forward to petition and march for a better future for their children.

Talk about your alumni activism and how you've built a platform to support Vashon

Vashon is a community, not a one-person thing.

Their last barbeque was a sight to see – everyone getting together and laughing and enjoying the moment

Rudi loves the camaraderie from high school and how it is still there today

What is the catalyst or the unifying issue that Vashon has been able to come around to impact their community?

The major catalyst – the social media influence. Because you get to see everyone doing their own thing and going through their own walk of life

You want to support your own – free of racial barriers.

How has the Alumni Network has helped the profile of the school over the decades?

There are a lot of kids outside of the district that want to come be a part of the school – not just for sports but also their positions, test scores, etc.

What are some of the bigger changes that you've seen in the perception of Vashon over the 20 or so years?

There are more younger teachers now – so the kids and the parents can relate to them better

Vashon is a neighborhood school with a strong community network. When people are considering where to send their children, what is that draw for families to Vashon?

It gives you more of a connection with the neighborhood.

You can more easily understand how to apply what you're learning in school into your everyday life.

Staying in a neighborhood school allows you to stay focused on how that learning does apply in real life and in a real community

When kids at other schools graduate, they understand that they might not see their classmates again, but it's not that way with neighborhood schools like Vashon.

What really is the call to action for the Vashon Alumni Network

The call to action for the network is…to keep it tight, to keep it right, and to always fight.

*Does not mean physically fight

Have morals, have dignity, and stand for something. That's what it's about being a Wolverine. That's what it's about being a Vashon Alumni…You gotta have something for the future.

What are those changes that really give you hope for the future of future alumni of Vashon

There will always be respectable and eager youngsters that come out of the school.

How can people get involved with the Alumni Network? What is the key takeaway?

If you want to know more, message someone on the Facebook page, because the message will get to the right person.

Be yourself. Don't try to be someone else. Thrive within your own body. And please yourself. Please your family. Make sure that you have morals. And everything else from there should lead you to a great road for success.